califone : villagers (release date May 19, 2023) order/listen here
the habsburg jaw
eyelash
mcmansions
villagers
comedy
ox-eye
halloween
skunkish
sweetly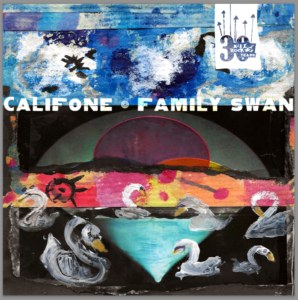 califone – family swan (a cover of a song by Mecca Normal for kill rock stars 30th anniversary) release date: april7,2021
califone – echo mine (release date 2/21/2020 jealous butcher records) available for order here or here
track list: 01 – Romans . 02 – Bandicoot . 03 – Night Gallery / Projector . 04 – Howard St & The Beach Nov 1988 After 11. 05 – Flawed Gtr . 06 – Echo Mine . 07 – Carlton Says: Find It. It's Still There . 08 – Snow Angel V1 . 09 – By The Time The Starlight Reaches Our Eyes . 10 – Snow Angel V2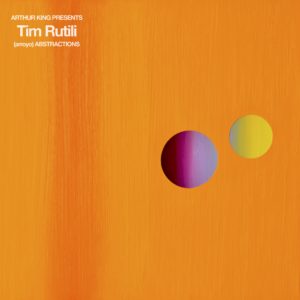 Tim Rutili (arroyo)Abstractions                                                                                                        Track list:  01 —  coyote out of (lizard) sleep . 02 — a squid among peeling oaks . 03 — nine minutes before taken by earthquake . 04 — werewolves werewolf . 05 — parson's weed wins devils gate . 06 — off.sun.off.nobody loves an albatross . 07 — zabriskie after midnight.morning coyotes.long ash(goodbye),CA                                                                                (release date: 09/28/2018 dangerbird/arthur king presents)  :: BUY/LISTEN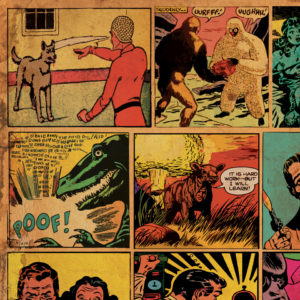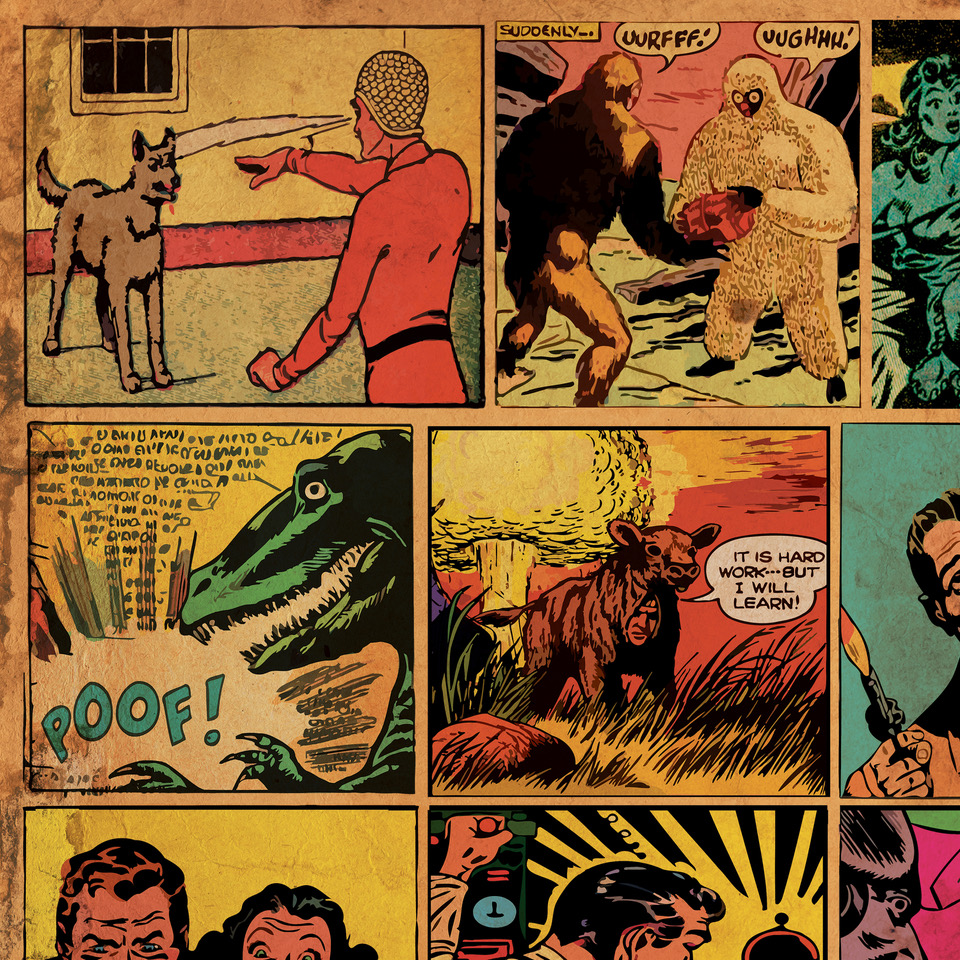 Tim Rutili  Craig Ross // 10 seconds to collapse  (release date 06/22/2018 Jealous Butcher)   Buy: vinyl LP  CD  Digital    track list: Like A Rifle / The Day Before The Peaches Rot / Choke / Back To The Plow  / Coma Tapes /  Greasing Up The Third Eye / Little Carnivores /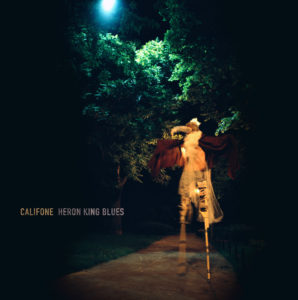 Heron King Blues deluxe 2LP (originally released January 20, 2004)
buy: Deluxe 2LP reissue   Listen/buy: digital
Tracklist: Wingbone / Trick Bird / Sawtooth Sung A Cheater's Song / Apple /Lion & Bee/                                      2 Sisters Drunk On Each Other / Heron King Blues
Bonus LP tracklist: Outro / Electric Fence (clava live version)                                                                /Sawtooth Sung A Cheater's Song (10/11/03 KVRX radio Austin,TX)                                                      /The Ocean Was Lungs (Faraway Bells) / I walk on Gilded Splinters                                                      / St. Martha (clava live version) / Red (clava live version) /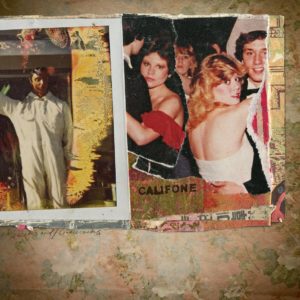 Quicksand/Cradlesnakes
Dead Oceans March 17, 2017 (originally released onThrill Jockey, March 18, 2003)
Buy:  lp // digital   Tracklist:
Side A
01 "One"
02 "Horoscopic.Amputation.Honey"
03 "Michigan Girls"
04 "Cat Eats Coyote"
05 "Your Golden Ass"
06 "(Red)"
Side B
01 "Million Dollar Funeral"
02 "When Leon Spinx Moved Into Town"
03 "Mean Little Seed"
04 "Vampiring Again"
05 "Slower Twin"
06 "Stepdaughter"
Side C
01 "When Leon Spinx Moved Into Town (6.18.03 – VPRO Radio, Amsterdam)"
02 "Slowness (califone + oRSo)"
03 "Ro (califone + oRSo)"
04 "Wednesdays (califone + oRSo)"
Side D
01 "Kissing Cousin Wikkan (9.02 Cicero)"
02 "Sciabolato"
03 "The Machines In Your Stomach Have Everything To Do With Your Dreams"
04 "Cat Eats Coyote (unedited)"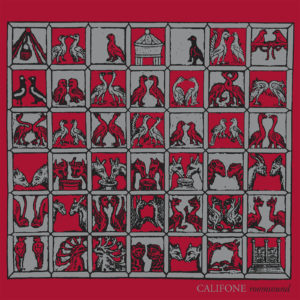 roomsound                                                                                                                                                     (originally released on perishable 2001)
buy:  Deluxe double LP                                                                                                                                 digital  //
tracklist: Trout Silk   Bottles And Bones (Shade And Sympathy)    Fisherman's Wife   Porno Starlet Vs. Rodeo Clown   Tayzee Nub   Slow Rt. Hand     St. Augustine (A Belly Full Of  Swans)     Wade In The Water     Rattlesnakes Smell Like Split Cucumber    New Black Tooth
Bonus LP tracklist: A1. Mittens (4-track version) A2. Stanza VIIITrout  A3. Cluck Old Hen A4. Wade In The Water (4-track version) A5. Silver & Gold Side B. Etching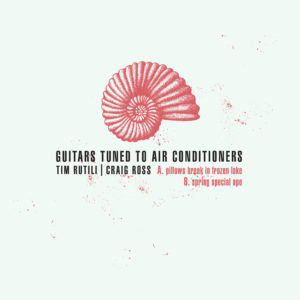 guitars tuned to air conditioners // Tim Rutili  Craig Ross                                                                    Jealous butcher, July 22, 2016                                                                                                                         limited edition vinyl, photo prints in a hand-screened package. download included w/ purchase
Side A 17:03 PILLOWS BREAK IN FROZEN LAKE                                                                                          Side B 16:08 SPRING SPECIAL APE                                                                                                                 Buy: vinyl LP or digital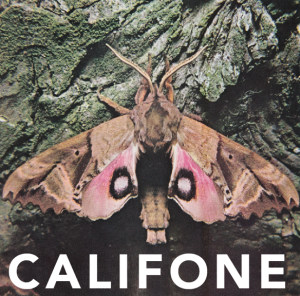 insect courage EP                                                                                                                                           Future Oak, march 21,2016                                                                                                                            limited 10inch vinyl: here                                                                                                                digital: here
tripped on your cape / burn the sheets.bleach the books / insect courage #14                                 / mother of violence / easter82 / insect courage #33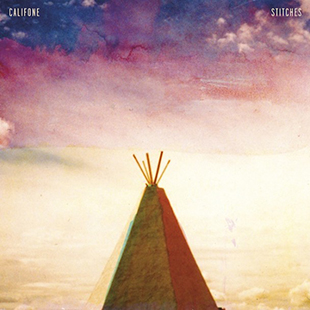 Stitches
Dead Oceans, September 3, 2013
Buy: vinyl or digital
Movie Music Kills a Kiss / Stitches / Frosted Tips / Magdalene / Bells Break Arms / Moonbath.Brainsalt.A Holy Fool / Moses at the End / A Thin Skin of Bullfight Dust / We Are a Payphone
All My Friends Are Funeral Singers
Dead Oceans, October 6, 2009
Buy: Dead Oceans
Giving Away the Bride / Polish Girls / 1928 / Funeral Singers / SNAKE'S TOOTH = PROTECTION AGAINST FEVER AND LUCK / Buñuel / Ape-Like / A WISH MADE WHILE BURNING ONIONS WILL COME TRUE / Evidence / Alice Marble Gray / Salt / Krill / SAVEN, FOURTEEN, OR TWENTY-ONE KNOTS / Better Angels / Lunar H.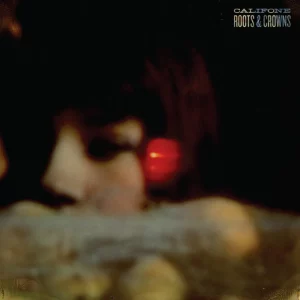 Roots & Crowns
Thrill Jockey, October 10, 2006
Buy: Thrill Jockey
Pink And Sour / Spider's House (mp3) / Sunday Noises / The Eye You Lost In The Crusades / A Chinese Actor / Our Kitten Sees Ghosts / Alice Crawley / The Orchids / Burned By The Christians / Black Metal Valentine / Rose Petal Ear / 3 Legged Animals / If You Would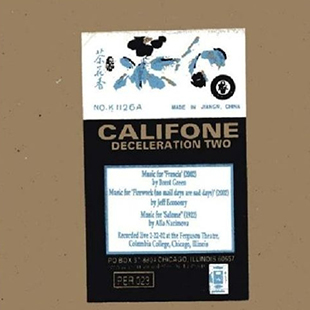 Deceleration Two
Perishable, May 27, 2003   buy: digital via bandcamp
Francis / Fireworks: No Mail Days Are Sad Days I / Fireworks: No Mail Days Are Sad Days II / Fireworks: No Mail Days Are Sad Days II / Salome: The Moon Is Chaste / Salome: In The Palace Of Herod / Salome: Effeminate Soldiers At The Cage / Salome: Suffer Me To Touch Thy Body / Salome: The Young Syrian Slays himself / Salome: I Love To See In A Fruit The Mark / Salome: Whatsoever Thoushalt Ask Of Me / Salome: She Dances / Salome: I Ask The Head Of Jokaanan / Salome: Skull Ring In The Fist Of The Executioner / Salome: I Will Not Look At Things / Salome: I Have Kissed Thy Mouth
One / Horoscopic.Amputation.Honey / Michigan Girls / Cat Eats Coyote / Your Golden Ass / (Red) / Million Dollar Funeral / When Leon Spinx Moved Into Town / Mean Little Seed / Vampiring Again / Slower Twin / Stepdaughter
Sometimes Good Weather Follows Bad People                                                                                         compilation of the first 2 califone recordings with extra tracks (perishable 2002)
Buy:  LP or digital Jealous Butcher (LP)
On The Steeple W/ The Shakes (XMas Tigers) / Silvermine Pictures / Pastry Sharp / To Hush A Sick Transmission / Dime Fangs / Red Food Old Heat / Down Eisenhower Sun Up W/ Mule / Electric Fence / St. Martha (Let It Fold) / Beneath The Yachtsman / Don't Let Me Die Nervous / Dock Boggs / To Hush A Sick Transmission (Unedit) / When The Snakehandler Slips
Deceleration One
Perishable, March 2002  buy: digital via bandcamp
Handpainted Halo/Ceiling / Rooftop/Static / Face Under Hat/Old Streetside / Parade Queen/Milk Waltz/Dirt Moon / Lakewater/Parachutes / Peel / Intro/Sleepy Child Asks For An Orange / Monkey, Cat, Ballerina And Hood Escape / Dog Sold/Hangs From Rearview Mirror / Fruitstand Floor/Ankle Bite/Dog Steals / Night Falls/Devil Springs Fully Formed / Hell Orchestra With Dancers/Glass Choir / Cat Fights Devil/Hellions Chase Dog / Garlic Head Clown Serenades Ballerina / Dog Feeds Orange To Sleepy Child
Loftus (Loftus)
Perishable, January 1, 1998
Buy: vinyl LP or digital
Raisin / Emma's Rubber Leg / Haywine / Stolen From A Rifle Clean Brothel / King Carp In A Dan Ryan Ditch / Theme From Loftus Nine / Nervous / Bell And Hammer / Penguin Boy's Love Story / When The Electricity Goes Out / Marlon Perkins / Cake / Blind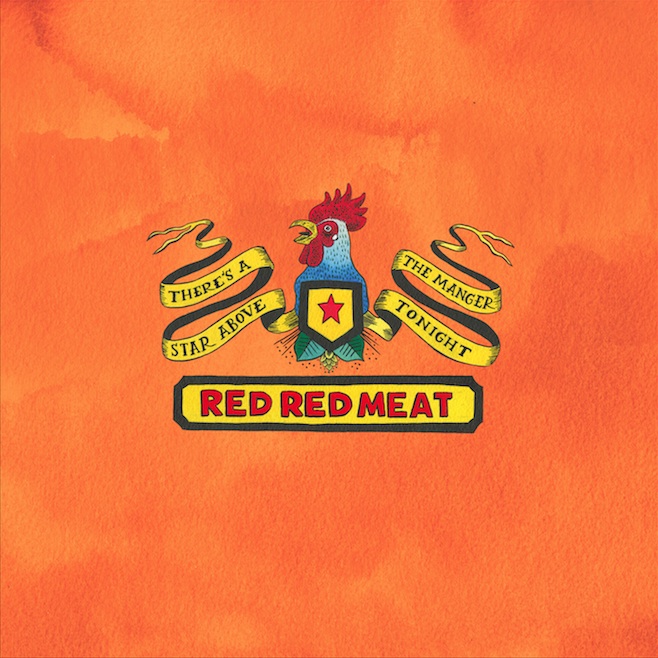 There's A Star Above The Manger Tonight (Red Red Meat)
Sub Pop, February 25, 1997
Buy: Sub Pop // deluxe dbl vinyl edition
Sulfur / There's A Star Above The Manger Tonight / Chinese Balls / Second Hand Sea / All Tied / Paul Pachal / Bury Me / Airstream Driver / Mecanix (From Cold Milk) / Quarter Horses (B-Slow) / Just Like An Egg On Stilts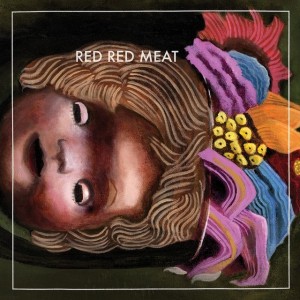 Bunny Gets Paid (Red Red Meat)
Sub Pop, October 13, 1995
Buy: SubPop (CD&digital) // deluxe dbl vinyl edition
Carpet Of Horses / Chain Chain Chain / Rosewood, Wax, Voltz + Glitter / Buttered / Gauze / Idiot Son / Variations On Nadia's Theme / Oxtail / Sad Cadillac / Taxidermy Blues In Reverse / There's Always Tomorrow
Jimmywine Majestic (Red Red Meat)Sub Pop,                                                                           February 15, 1994                                                                                                                                                                                                                                                                                                                     Buy: Sub Pop (digital) // deluxe dbl vinyl edition
Flank / Stained And Lit / Braindead / Smokey Mountain Dbl Dip / Moon Calf Tripe / Cillamange / Ball / Lather / Rusted Water / Gorshin / Dowser / Comes / Roses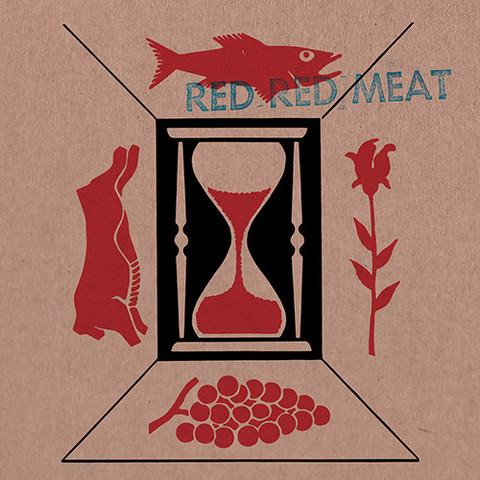 Red Red Meat (Red Red Meat)
perishable 1992                                                                                                                                            Buy: digital // deluxe dbl vinyl edition
Robo Sleep / Snowball / Molly's On The Rag / Sister Flossy / Idaho Durt / Cellophane / Grief Giver / Rabbit Eyed / Hot Nickety Trunk Monkey / Nice Round Numbers / X-Diamond Cutter Blues / Stare Box / P.C.L.M. / Rubbing Mirrors / Sand Box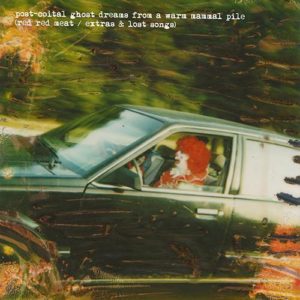 post-coital ghost dreams from a warm mammal pile (red red meat / extras & lost songs)  jealous butcher records 2016  buy:  digital